Warmzone Radiant Snow Melting Systems
Radiant Heat Solutions
Is your vision of a snowy day one of a cozy fire while you read the newspaper, or waking up early and putting on your coat and gloves to shovel your driveway before work? Perhaps it's time to consider the many advantages of installing an automated driveway heating system. These maintenance free snow melting systems can clear driveways for you so you can relax in the mornings. For business owners, your liability may also decrease by installing a radiant snow melting system. Walkways, entryways and steps will be clear of snow and ice around the clock, with no effort at all.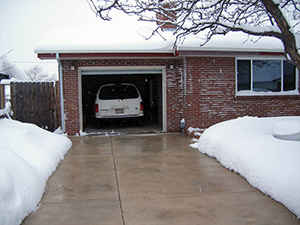 These advanced radiant snow melting systems feature an activation device (snow sensor) that detects the temperature as well as precipitation. When weather conditions warrant, the sensor triggers the control unit, and power is sent to the embedded heat cable to warm the driveway (or sidewalks or ramp, etc.) as the first snowflake falls, eliminating snow buildup. You can have peace of mind knowing that wherever you have installed a radiant snowmelt system, slippery and dangerous ice is a thing of the past. In addition to Warmzone's industry leading products, our design and support services are second to none.
Our talented, experienced designers will work with you to custom design a radiant heat system that not only clears snow from your driveway, but fits your budget as well. Warmzone system designs feature a detailed AutoCAD layout of your system. These layouts contain the proper materials, load calculations, breaker sizes, and number of breakers so you'll all the information necessary before any heat cable is installed. Warmzone's valuable AutoCAD design services minimize issues that installers may otherwise encounter, and ultimately saves you time and money in the long run.
Snow Melting System Components
ClearZone Heat Cable
Warmzone's ClearZone heat cable is one of the most trusted and proven UL listed snow melting cables on the market today. ClearZone snow melting heat cable is an industry leading cable that is popular in a wide variety of commercial and residential radiant snowmelt applications. The snow melting cable is available off the spool as well as pre-spaced in mats for quick, easy installation. The cable consists of a resistance-heating element insulated with Fluoropolymer with a high dielectric strength. A metallic sheath is provided to give additional mechanical strength and provide a ground path. A final outer jacket of Polyolefin is provided for corrosion protection and durability.
CLEARZONE HEAT CABLE FEATURES INCLUDE:
● Single point connection
● Twin conductor cable
● Flexible installation, easy to customize
● Durable construction makes the cable very versatile
● Silent, efficient and safe
● Maintenance free
● For use in concrete, asphalt and under pavers
● Power leads are 16.4 feet in length
● CSA listed in U.S. and Canada
● 10-year limited warranty
Activation Device (Snow Sensor)
ClearZone snow melting systems often use an aerial-mounted snow sensor switch. This advanced, rugged device automatically signals the radiant snowmelt system's contactor panel when it detects precipitation and temperatures are below a set point (usually 39°F). Power is then sent to the heating element embedded in the driveway (or ramp, sidewalk, etc.) Smart system compatible, the aerial snow sensor also features an adjustable temperature trigger point, adjustable delay off cycle, and upgradeable remote activation.
A pavement-mounted snow sensor is also available for all radiant snow melting systems. They are especially common in large commercial snowmelt applications. The pavement-mount snow sensors utilize a small NEMA 1, wall-mounted control panel that is typically installed on a wall indoors. These efficient controllers are approximately 6x3.5 inches with an easy-to-use interface. The units have even been designed so that they can be controlled from an external signal (day/week timer, GSM-module or other signal source). The compact snow melting control unit can be switched on/off (standby) and the heating system can be manually turned on in case you choose to pre-heat an area before a large storm, or melt snow or ice afterwards that has occurred as a result of wind (snow drift) or shade, etc.
ClearZone Heat Cable Specifications and Technical Data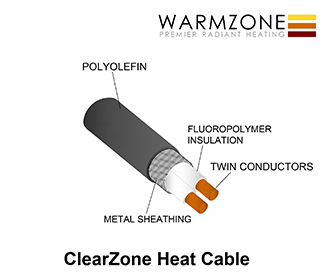 | | |
| --- | --- |
| Cable Construction: | Twin conductor |
| Rated Voltage: | 208-600 V (For 277, 600 V, please call.) |
| Output (Cable): | 12 W/ft. (40W/m), 24-70W/ft2 |
| Output (Mats): | 37 W/ft2 and 50W/ft2 |
| Cold Lead: | 16.4 feet (5.0 m). Longer cold leads available on request. |
| Bending Radius: | Minimum 2 inches (51 mm) |
| Cable Diameter: | ¼ inches (7 mm) |
| Conductor Insulation: | Fluoropolymer |
| Metal Sheath: | Copper |
| Outer Sheath: | Polyolefin |
| Max. External Jacket Asphalt Temperature:* | 220°F (105°C) *[460°F (240°C) for up to 10 minutes] |
| Max. External Jacket Temperature: | 158°F (70°C) |
| Max. Conductor Insulation Temperature: | 302°F (150°C) |
| Min. Installation Temperature: | 5°F (-15°C) |
Call a radiant heat expert today to learn more at 888.488.9276.